These images are of running water over rocks, sun colored painted.
Las Siete Tazas running water
The factory in Germany was repairing my Rollei camera, so Jaime a good photographer friend kindly lent me his 6×7 Mamiya.
I decided to go camping with my children to Las Siete Tazas, where the river sculpted the mountain's rock into 7 small cascades, forming "7 cups", which gives the name in Spanish.
Light was very strong with no clouds giving a Soft Light, so most pictures came out with a blue tint. Of the outing, I like best this image of running water over rocks. I took some time to get accustomed to see horizontal or vertical of the Mamiya compared to the Square Format of my Rollei.
Alto Huemul Sun paint
This is place called Huemul Alto is near Sierra Bellavista, South of Santiago.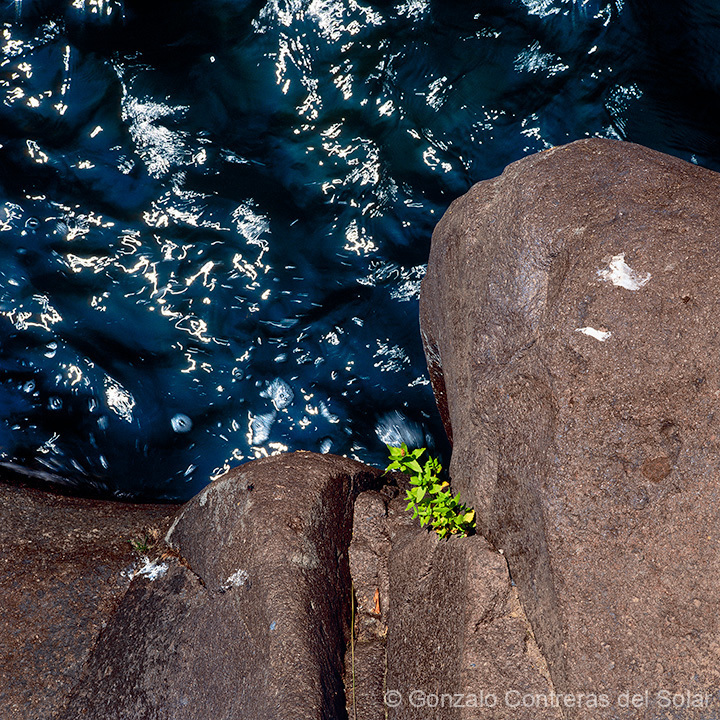 People who do not like the beach, some will have a mountain cabin similar to the Black Forest in Germany. They resisted for many years to install electricity and telephone lines. Further up, there is an Oak Forest called La Roblería.
For my first visit to the forest, we had an 8-hour trek. On this occasion, I found out that the forest owner built a road. I got the permit to enter and drove with my 2 elder sons.
We camped near a small creek, after installing the tent, I went scouting and discovered this waterfall. I returned the following day with a large white linen as a reflector to reduce the midday harsh light.
The wind made difficult to install the linen, fortunately, clouds soon appeared and helped me reduce the light intensity. I took color and B&W images; this is the color version of running water over rocks.
This beautiful forest burned unfortunately on a dry summer; people think it was done intentionally. I never saw the old wooden cabin that is said to be at the very end of the forest, where ranchers take their cattle to the highlands during summertime.
Acero Marka running water
I went out on a picnic to Acero Marka, the mystic valley with tropical vegetation at an altitude of 3200 meters. We started packing at 4:00PM, as the high mountings surrounding the valley would take the light away soon. Along the trail to where we had parked the cars, there was a small creek, with crystal clear water. My eyes noticed a yellow leaf stuck over a black rock in the middle of the stream running water.
I took out my camera, placed it on a tripod and made two photographs. The leaf was gone few seconds later.
I recorded the image in my retina until Monday, where I was desperately awaiting the outcome from the lab. I had visualized this faithful copy.