A few years before we went to Grindelwald and were told that we should visit the Jungfraujoch.
In this occasion I was working at Bern and had the weekend free. At 6AM I was at the station taking the train towards Grindelwald . Arriving at 8 AM I started my ascent hiking to an adjacent glacier. At the beginning I had the lead amongst all the hikers, however my heavy camera and tripod started to feel their presence. Fortunately there was a small restaurant halfway.
On my way down, my knees started to complain. The last kilometer towards the hotel that was at the bottom of the gorge was extremely painful. Upon arrival the beer tasted marvelous.
The following day had to take two different trains that go up the mountain top of the Jungfraujoch from Grindelwald valley.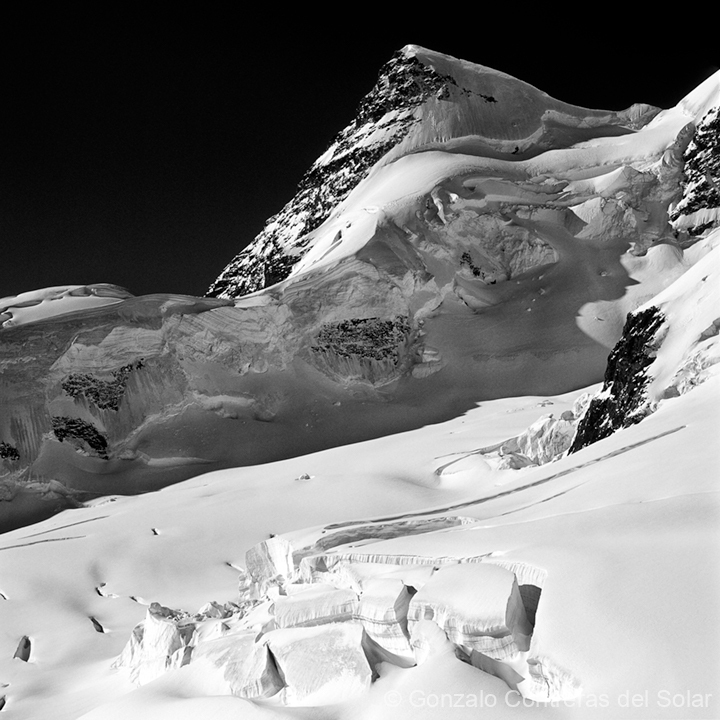 While waiting second train to arrive; I rushed to photograph the nearby mountain, avoiding cables and non-natural objects that were around, made this color image and converted to B&W.
The second train goes to the mountaintop through a tunnel carved in the rocks of the Jungfraujoch up to 3550 meters (11650 feet).
The last 2 images I took them from a viewing station on the mountain top.