These are Lichen photographs taken in many places.
Laguna Sofía
Last year during our visit to Patagonia, while at Laguna Sofia, -where I captured a Condor without knowing it-; almost ending this photography outing, I climbed over a rock to have a better composition of the surrounding clouds. After capturing images in B&W, I looked down and discovered these lichens looking at me.
At scanning and cleaning process, reviewing at a high magnification, I found that I had captured also a bullet cartridge. Some people do not only come to this place to admire nature, but also to take life.
Sierra Bella Vista
This place is called Sierra Bella Vista, about 200 kilometers south of Santiago. Some people have vacation houses as the environment is similar to the Black Forest in Germany.
They had very strict regulations regarding camping, which you couldn't. You had to leave your car on a parking area. Then hike down to a river of crystalline water where you could only place your tent.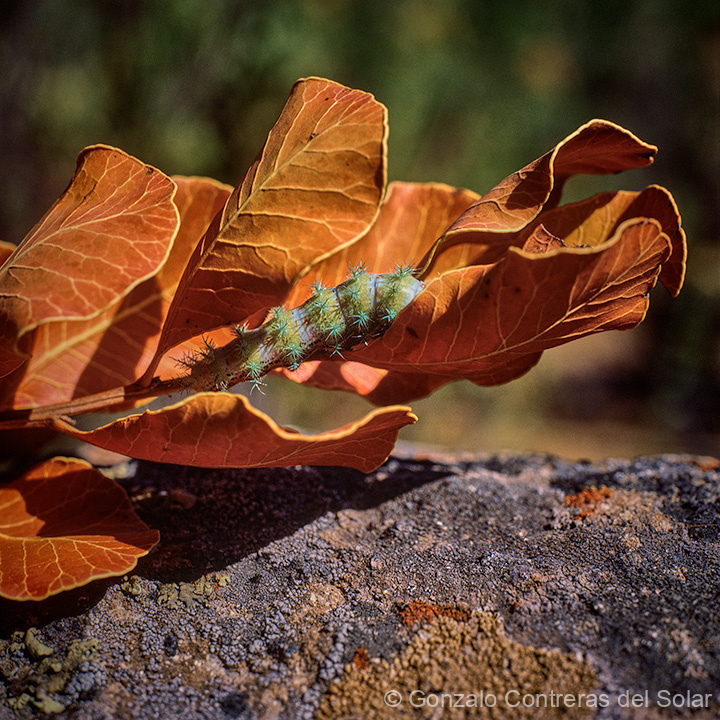 After a nice weekend with friends and a few rolls of color film, on our hike back to the cars, I found this rock that had some branches that were cut from a nearby bush. The leaves were orange and made a good contrast with the rock and lichen. After setting the tripod and without needing the extension tube to do the macro photography, I discovered the centipede.
Colquechaca
Thirty years ago, I was working on a mineral trading company. There was an opportunity to acquire mining rights on a river that had gold. Took a small airplane towards Potosi, overflying edge of the Salar de Uyuni, a massive and impressive salt lake. We landed near Colquechaca mine late afternoon, so we had to stay for the night at the mining camp. They gave us 2 rooms that had no heating, but the beds had many thick blankets. I recall say that I did not need them, as I was taking my goose filling -30 degree sleeping bag. It wouldn't be long that I had to also cover myself using the blankets.
Next day we would drive through a narrow dirt road, which ended abruptly. Hiked the rest of the journey, going down towards the river which was about 1000 meters (3300 feet) lower.
Going down was easy, returning the next day to an altitude of 4180 meters (13713 feet) took up to midday. A difficult task when carrying the backpack with tent/sleeping bag and cooking gear, plus my Rollei 6006 camera.
Resting breathless of the hike awaiting for our transportation to arrive, saw this pinkish orange rock full of lichens. They contrasted the intense blue sky you see at this altitude. The image was taken with and extension tube and no tripod, fortunately came out quite sharp. As mentioned before, my focus is to portray water, and seldom take other images, the following images represent these occasions. The combination of the orange lichen and blue sky make a perfect combination on these photographs.