The image was named the Mururata wave.
We had a picnic with friends at Palca, small village between the Illimani and Mururata mountains, close to La Paz. Around 4:00PM we drove a dirt road that went to an old mine at the edge of the Mururata glacier. I drove my Toyota Corolla, which practically escalated the rocky path, as if it would be climbing a stairway. We reached the end of the road. I believe that we were at 4,800 meters (15,750 feet). A small trail pointed us to the glacier edge. My four years old son wanted to come along, we started walking and the altitude soon kicked in.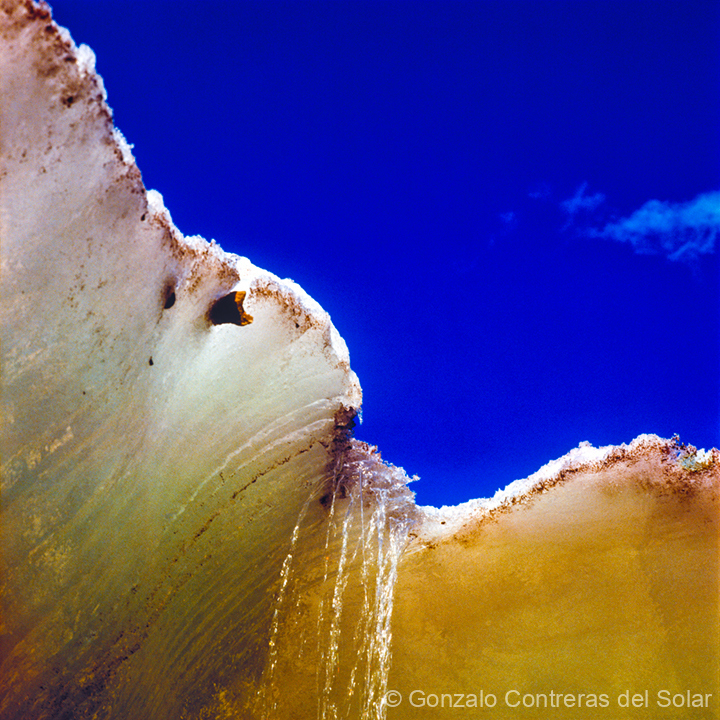 In one arm I carried him and on the other the camera bag and tripod. In this photograph, I am underneath the edge of the glacier, almost breathless. The light, place and intense colors gave me the strength to take the images and to get back to the car.
I recall showing this image to Luis P. a Chilean photographer who was the curator of my first exhibit in Santiago. Had all my color Cibachrome images placed on the floor during the selection, he named it as the "Frozen Wave", I call it the Mururata wave.