1991
It was 1991 and was driving towards the town of Llifén, where the Saltos del Caunahue Gorge is located. We had visited this zone 8 years earlier.
During this trip, from the dirt road which was narrow I saw a river gorge. Was able to take a few images, after developing the file, notice there was a bridge over the gorge. I later learned that this place was called "Saltos del Caunahue".
1997
Returned in 1997, the road was paved, however tall vegetation had grown and had no clear view of the gorge. Only paper maps were available and had to guess how to get to the bridge.
Took many images on film of the gorge. One image had the perfect light, which I printed at an exhibition in Barcelona on a 2×2 meters size.
2023
Returning this year, the view of the gorge was unavailable unless you had a drone, which had to fly a long distance, as no parking area was available.
Drove to towards the bridge, discovering that some of tall trees that you could see 30+ years ago were gone. The water volume of the gorge was much smaller for the same time of the year I visited before.
I was hoping to have a cloudy day, however the clouds that I saw as we approached to the lake, vanished. The sun light created harsh shadows. I had to take many images, focusing on the shadows as well as the highlights. Even I had a 24mm lens, could not get the entire gorge, took images to be photomerge at post processing.
Fortunately, the images that I took from above the bridge came out well in spite of the harsh shadow light.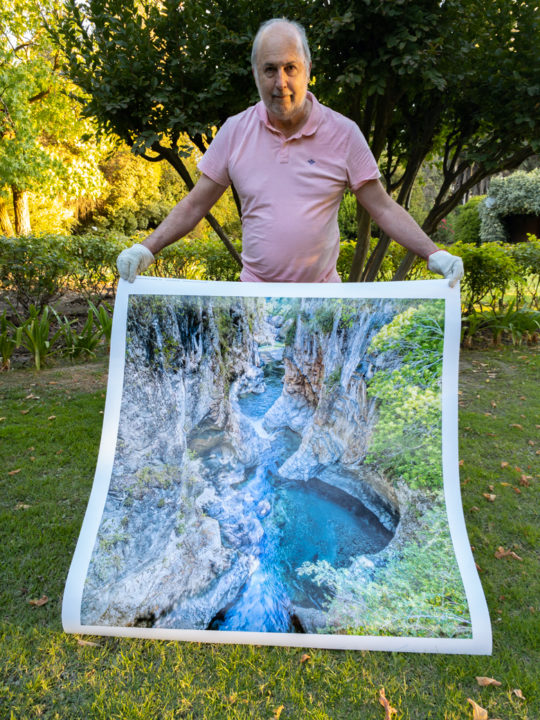 Photoshop and a few photomontage processed, was able to create a square image I wanted of Saltos del Caunahue gorge.