The following images were taken on the same roll of film showing the Park splendor of Torres del Paine.
We just returned from the glacier walk, still enjoying the taste of the whisky with glacier ice. The boat took I think about 2 hours to cross Lago Grey. Then we had the 30 minutes' walk from the improvised docking port to the parking area.
The glacier and lake are in the northern area of Torres del Paine, while our lodging was on the opposite southern park. We did not know the distance of park were big, and mistakenly booked on lodge far from any place.
From the north
It was about 7:30 PM, the sun was still high (sunset was about 9:30PM), just a few miles from the lake, near Río Grey I saw this image of the mounting range. Stopped on the side of the road, and to wait for a while for all the cars & buses to pass by, as they were lifting dust. Most of them were returning from the glacier hike.
From the south
Rollei camera allows to use at the same time color or B&W film, by interchanging the film back. Shot just few images in B&W. Changed to color film until the next day, where I captured mountain range view from the far south.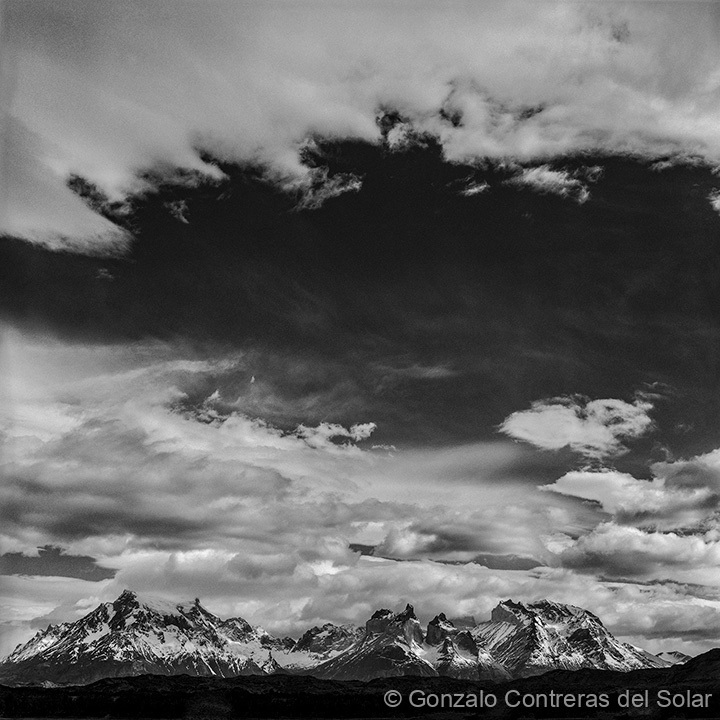 The Waterfall
We started our trip to Argentina towards Perito Moreno glacier, which is connected on the high mountains with Grey glacier.
We were recommended to visit the Paine waterfall, so we modified our rout where I took this image. This rout change, a non-existing gas station and strong wind against us, finished completely or gas tank, driving down a hill towards Calafate town with the motor turned off. Fortunately we had a manual car that we could do this trick, and the gas station was still open when we arrived.
Perito Moreno is another glacier that has Park splendor.