These images are from Grey Glacier icebergs.
Close to the glacier
As mentioned on a previous post, went with my daughter to Torres del Paine National Park. I planned hike on the glacier. For which I contracted a tour well in advance that would allow us to walk on the glacier. I wanted to repeat the adventure I had on an earlier trip, where I made mage beautiful images.
To get to the Glacier I need to plan your travel, so you can be at a precise hour at the hotel where you contract the boat. The you take your car to parking area and walk for about 20 minutes or more to the docking point. The boat crosses all the Grey Lake and can be shaky due to the strong winds. I had no internet connection is available, as the park has no cellular antennas.
On arrival to the lodge, I was able to connect to internet. We then discovered the smaller boat that had to take us, was inoperative and the glacier hike wouldn't be done.
Frustrated, I walked along one side Grey Glacier up to a cove and discovered that many icebergs captured.
Also, I was not very happy with the images that came out when the film was developed. This is the one that has a better interpretation of the melting glacier. The original image is with Velvia color film, and digitally converted to Black and White, I like both images.
Near the outflow of the lake
This was our first visit to Torres del Pain. My wife and I were staying in a hotel that overlooked the Grey Lake. One evening while having dinner with the beautiful view of the lake, snow covered mountains and the floating icebergs, we saw a group of wild horses playing in the nearby beach, it was 9PM but still had good light.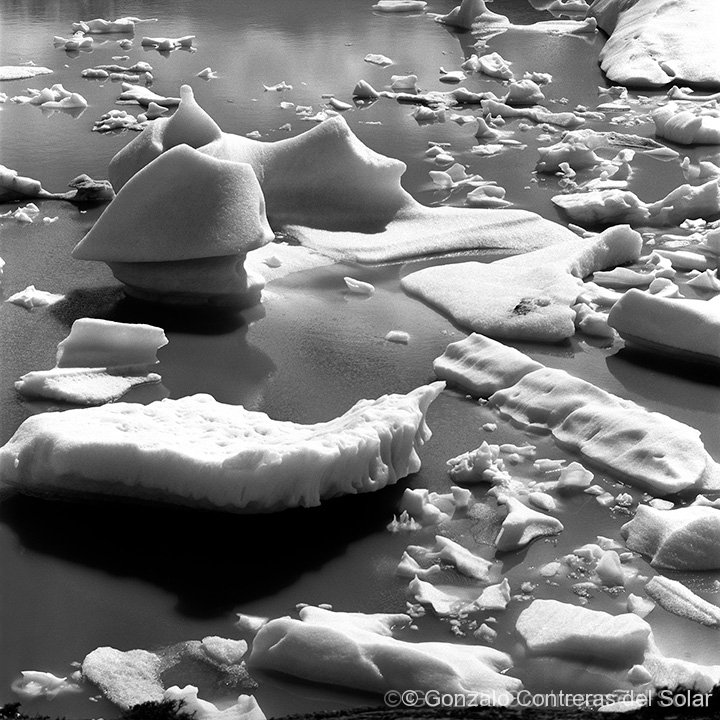 The following morning, we went to the beach where the horses had played and adjacent to it there was a small island. Trekking through the island, we were able to see the floating icebergs. This is one of the many images I made there.